I have attempted to short the S&P in spots lately - usually when the chart of the index gets extended and I am looking for a mean reversion type trade - but I have gotten stopped out for the most part because the action has been relentless (up). So valuations are obviously extreme (probably the only time more so was the 1999-2000 tech bubble which now appears to be the measure of all things) and only technical analysis can be applied at this point. But the chart guys for the most part just keep re-drawing their channels and levels and scratching their heads. The CNN Fear and Greed index and has been off the charts (I usually short at the spikes on the indicator and buy at the bottom levels). Chart below: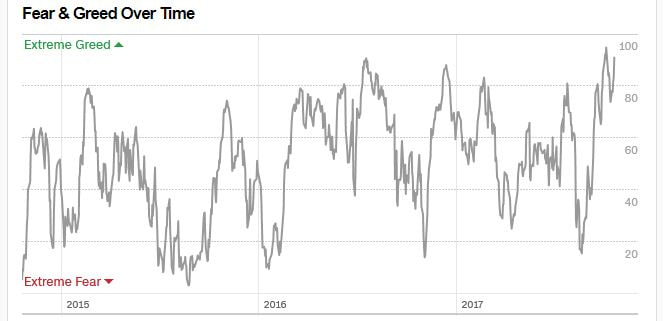 So at this point a short-biased trader will need to stay small in size or maybe get destroyed by a relentless parabolic (blow-off) top. I am assuming other bears threw in the towel a few months ago and started playing the long action. It makes sense, as I recall making a killing on the long side during the dot-com days, but also suffering the losses when thinking those first big dips would be bought. This melt-up in the tape has been strange (low volatility - low volume) with very little emotion, unlike anything probably anyone has ever seen. Maybe because it's all algorithm driven - central bank bought - funny printed money - coming in from the ether - fantasy stuff. But anecdotally it appears some of the moms and pops are finally coming into the casino, along with the bears throwing in their proverbial towels, so this could finally be the blow-off top some were waiting for. The "Trump Trade" tax-cut package is ostensibly the carrot in front of the stick on this latest move. But fundamentally most DOW components already deal with a very low tax rate with all the financial engineering that goes on, so I am not sure how much a lower corp tax rate would help and the DOW components that would be helped the most have already increased 50% to 80% since the election (I mention the DOW because it was easier to evaluate 30 corporate tax rates than 500 in the S&P).

Lucky for me I was in bitcoin and ethereum currencies until a few months back. Of course I liquidated early and missed the parabolic moves they are experiencing now (but made a great profit nonetheless). Also real estate has been red-hot so that has helped. But I mention these things because what is not red-hot at this point? Hence the everything bubble! Only commodities have been lagging (much like in 1999) but I believe this also has something to do with easy money flying around the globe. As long as oil explorers and farmers and miners are getting easy money they will continue to drill and grow and dig. So prices continue to fall.

At any rate, this market is almost impossible to short at this point. It could flash crash tomorrow or zoom another 10% higher in a month. I will take a step back and short small only in spots.

Can you guess the chart below? No it's not Bitcoin it's actually the DOW. That ramp we are seeing now has some of the best velocity we have ever seen.