Investing for the long run... Speculating for profits.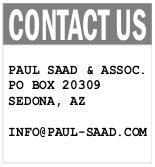 Click for email form
We are a private investment partnership* that primarily invests in raw land, mortgage notes, rental properties and tax lien certificates. Our individual partners also trade and invest in micro-cap stocks with a propensity toward deep value. Paul is the Senior Manager of the partnership and will occasionally write about things that interest him on the blog.
Check out
Paul's Blog
for his current ideas.
*Note: We do not have outside investors as we only run our own personal capital. We do not offer any way to invest in our partnership. This site is for informational purposes only. If you need to contact us, please use our email form or by snail mail at: Paul Saad & Associates, LLC - PO Box 20309 - Sedona, AZ 86341
Paul Saad & Associates, LLC - 2016 - All Rights Reserved -
Contact

---